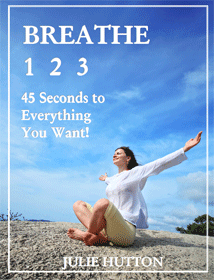 The Power of ……
Breathe 123™
45 Seconds to Everything You Want
IMAGINE if…
in the beat of your heart, in the rhythm of your breath, you could connect with your inner self, to find peace, to take control of your life, to achieve the success you yearn for and deserve.
Breathe 123™, is the revolutionary program that shows you how.
In less than a single minute,
you can not only re-balance yourself, but also, with practice, use the technique repeatedly to:
unlock your potential,
tap into your creative genius,
focus your attention,
strengthen your wellbeing,
discover your true self.
It's a simple but carefully controlled breathing method that
works instantly,
that you can initiate at
any time
and
wherever you are
and that you can build on to develop a deep and lasting
strength
and sense of contentment.
Buy this amazing book now - just $6.95!
For the first time, author and life coach Julie Hutton has made her Breathe 123™ program available in a fascinating, easy-to-follow book. 
And you can read it right now.
Click here
to instantly download Breathe 123™, the book. In simple language, Julie explains the importance of controlled breathing and how Breathe 123™ works.
Her easy, step-by-step guide shows you, first, how to Breathe 123™ and feel the immediate benefits. Then you learn how to build on the technique to achieve new levels of insight and control that will literally change your life. 
The book comes complete with worksheets to monitor your progress.
Download it now.